Martinez understands fan protests
by
153 Comments [Jump to last]
| 30/04/2016
Roberto Martinez says that he and his players share the supporters' disappointment with a poor season but remains convinced he knows what is needed to turn things around.
The manager oversaw a first win in seven Premier League games at Goodison Park today as his charges edged Bournemouth 2-1 in what was a largely uninspiring game but the victory will have done little to lessen criticism of him from fans who see no way forward for the club under his stewardship.
Supporters commissioned another plan to fly over the ground in the first half with a banner reading "Time to go Roberto NSNO" while a clutch of Evertonians remained behind after for the game to protest the fact that he remains in his post despite the Blues' dreadful form.
"I can understand [the protests]," Martinez said after the game. "We've been through a very painful time. I cannot hide that it's a disappointment for all of us. Not just the fans but the players and myself.
"We want to correct that, learn from those mistakes and clearly the concentration, from my point of view is to prepare the games we have in front of us and to get every point possible.
"I'm the manager and I am the one who takes responsibility. That's how it works. We're in a results business and all I need to do is make sure we carry on showing that character and togetherness as a team and to make sure we get that winning feeling back. When you get the winning feeling back you see things in a different manner.
"My intention is to win football games and to be successful. That doesn't change. It's a privilege and an honour to be manager of Everton.
"Three seasons here gives me a really good understanding of what is needed.
"We need to learn from the mistakes but the focus goes on to beating Leicester now and it's as narrow minded as it has to be."
Martinez's future is believed to have been discussed by the club's hierarchy but despite reports of a board meeting this past week, there have been no firm indications thus far which way Chairman Bill Kenwright and new major shareholder Farhad Moshiri are leaning.
---
Reader Comments (153)
Note: the following content is not moderated or vetted by the site owners at the time of submission. Comments are the responsibility of the poster. Disclaimer
Martin O'Sullivan
1
Posted 30/04/2016 at 20:13:09
Sorry but if you know now what you need to do and not two seasons ago then clearly your not a good manager, and if the board believe that then they are just as bad, it's to late to try and get more time out of this club and it's paying fans. Do the honourable thing and leave you have had enough time and it hasn't worked. You probably are a nice guy but not the guy we need at Everton anymore.
Brian Williams
2
Posted 30/04/2016 at 20:17:27
He said very recently to Jamie Carragher that he's basically not for changing. He had a dig at Athletico Madrid as well as well as Leicester,criticising their brand of football and sticking to his principles of the type of football he will continue to insist on playing.....and then says he knows what's needed to change things. Well it's taken too long and he's now contradicting himself bigtime.

Please, please, please let today be his last game in charge.

Steve Woods
3
Posted 30/04/2016 at 20:22:47
Jam tomorrow again...
Don Alexander
4
Posted 30/04/2016 at 20:25:23
Three seasons in and he now knows what it's all about at Everton eh? It'll be better next year eh? It took Ranieri one close season to get to grips with his squad, Pocchetino one season to get his squad to fifth, and now to second, Klopp six months to transform an average squad into consistent winners, but The Incredible One, in stark contradiction to his boast that he'd achieve CL when he signed up, now says he's just got to grips with what's what.
He also said to Carragher that it's unfair to judge a young player until he'd had 200 games or so. 200 games? That five seasons as an ever-present!
He is the football equivalent of Lord Haw-Haw, a traitor to his profession and us fans.
Paddy Howlin
5
Posted 30/04/2016 at 20:48:58
If Martinez really did understand what was needed to turn around our fortunes, he would just resign. End of discussion really.
Ste Wallace
6
Posted 30/04/2016 at 21:01:23
Big rebuilding job for the next manager, hope he spends wisely.
Jim Bennings
7
Posted 30/04/2016 at 21:02:19
Martinez says that three years here gives him a greater understanding of what's needed to win games but then says in the Carragher interview that if he was more flexible to change that we would have won more matches (roughly translating working on defence more and doing the basics of the game).
It's just pure contradiction, well if he was finally understanding how to win , he's given himself the answer in that Carragher interview but he's too stubborn to try it..
Neil Lawson
8
Posted 30/04/2016 at 21:10:44
All so painful... Why is this ridiculous soap opera being dragged out?
Who can possibly find any justifiable and convincing reasons why he should stay?
Utterly deluded. Hopelessly lost. Sadly incompetent.

Charlie Lloyd
9
Posted 30/04/2016 at 21:12:58
Simple fact is...
He's not good enough.
His record on results, tactics, subs, fitness etc...... speaks for itself.
The protests were a bit muted. The apathy of watching the dross served up has effected the fan bases ability to even muster up a decent protest.
No criticism intended to any supporters in that comment but there's a feeling of a slow death hanging around.
Get rid before we are fighting relegation next season.
Mark Burton
12
Posted 30/04/2016 at 21:36:30
If you understand then go now. Stop taking the piss
Ian Riley
13
Posted 30/04/2016 at 22:16:50
The board need to back him or sack him. I actually feel so for him. He acted as a true gentleman today and represents Everton very well. This is a results business and I am sorry for him, but he has to go.
For the fans to feel they have to protest to get the manager out. The board should hold their heads in shame. If the board are divided on sacking Martinez, then this doesn't sound good for the future.
Martinez should see out the season and leave the club.
Bob Hannigan
14
Posted 30/04/2016 at 22:23:22
Charlie Lloyd # 9 you are correct. Seems like a nice bloke but the bottom line IS the bottom line.
If he was a top class gaffer, 3 years would be more than enough.
Funding shouldn't have been the problem, Leicester City being an example, plus in recent years TV money has increased. Wise spending?, £13.5M for a young man who is out of shape with an injured wrist? I was excited when he was hired but results are results, unfortunately it's time to move on.
NEXT!

John Davies
15
Posted 30/04/2016 at 22:41:04
The man just keeps on talking and talking. He has learned nothing or he would be keeping his head down and his drivel spouting mouth shut. The man is unbelievably arrogant and clearly feels he is untouchable. God forbid he is right. I've just got this horrible fear that the buffoon Kenwright will keep him.
Lev Vellene
16
Posted 30/04/2016 at 22:46:08
If he still doesn't understand that we also need to train our defense, then NO, he doesn't understand! Maybe if he had Real Barca as his offensive force, his tactics would work. But against teams that have as good attackers as we do, and still devote time to training defensively...
Please!!!
Ernie Baywood
17
Posted 01/05/2016 at 00:24:43
I think a lot of these comments deflect from the real issue with Roberto.
If the core of your case for dismissal is that he is a lunatic or an idiot then you're wrong. He's an intelligent man who will be able to make a good case to the board.
If you focus on twisting or misrepresenting his words then that is also easy for him to rebuff.
He has his principals and they're pretty sound. Manage for long term improvement, not quick fixes to save your job. Have a vision of what you want to be and align everything behind it - recruitment, training, matches, all levels of the club. Be excellent at something. That vision should aim high, so not a Moyesesque style of playing to just overachieve without hope of ever winning anything.
I love those principles. I'm certain they're pretty sound.
The issue I have is that Martinez just isn't a very good manager. He doesn't inspire, he can't improve players, and he can't get results. There are simpler things to measure than Daily Mail interviews which should see him relieved of his job.
Our vision needs to be long term, which means it continues beyond a manager's reign. Martinez has done some good things which it would be a shame to waste. It's up to Moshiri now to ensure we don't do a 180-degree turn with the next hire... but there does need to be another hire.
Garry Richards
18
Posted 01/05/2016 at 00:41:20
I think he's showing clear signs of having listened to the the fans. In his MotD interview he didn't say phenomenal once and only got as far as the first syllable into "incredible" before correcting himself.
Baby steps...
Gavin Johnson
19
Posted 01/05/2016 at 00:48:50
Ernie (#17),
A great post. I still buy into Martinez's long term vision hence my support for him until fairly recently. I also agree with the 2nd part of your post. I thought it would come good this season, but I'm no longer hoodwinked into believing he has the ability to put it into practice – I have major doubts over player fitness, Roberto's man management and any hope that we will ever have a cohesive defence under his management.
He's here until the summer and his ability to sell his long term vision to Moshiri worries me. I really do think he might buy into it, just like, Dave 'I broke me leg' Whelan and Bill Kenwright. So yes, it's very alluring in theory and Roberto believes what he says. Unfortunately for him and for us, he just isn't as good as he thinks he is.
Phil Sammon
20
Posted 01/05/2016 at 01:12:35
'I still buy into Martinez's long term vision'
Yes, well, who wouldn't? A team playing attractive football, Champions League, lifting silverware.
The only problem being that he clearly cannot deliver it.
Reminds me of an episode of South Park. A bunch of gnomes are going around the town stealing everybody's underpants. When confronted their plan is revealed:
Phase 1: Collect underpants
Phase 2: ???
Phase 3: Profit
Makes about as much sense.
Finn Taylor
21
Posted 01/05/2016 at 01:14:13
Sorry to disappoint posters who like what Martinez is trying to do with his Philosophy and style... but football is a results business. It's not about the theory of playing, it's actually about playing and winning. We can all get high on ideas... but transferring them to action is a different thing all together.
Nothing, nothing Martinez has done over 3 years has indicated that he can take this club forward. Anyone with a vision, will see all the angles, options and possibilities and act accordingly.
There is no demonstration yet that Martinez is prepared to do this.
Joe Clitherow
24
Posted 01/05/2016 at 01:33:20
Jack Walker, who effectively bought Blackburn Rovers the PL title, was once asked if it was a dream come true. His reply was as you would expect from a self made Northern steel magnate, which was that no, it wasn't a dream come true as he wasn't a dreamer. The point obviously being that he had a plan to execute to get what he wanted.
A vision is a total waste of time if you cannot execute, and Martinez absolutely cannot execute. He complains about the way other teams who defeat his philosophy rather than combating them, which is a further indication of how he is a dreamer.
Unfortunately, in contrast to Jack Walker, our chairman is a total dreamer too.
Gavin Johnson
25
Posted 01/05/2016 at 01:57:45
It's great to have principles and while I don't ascribe to director of football roles one person who I think could do it successfully is Martinez. He want's to build long term success and what was a great youth academy has become even better under his watch. He's pretty good on the whole at spotting players too. Again it ticks the box for this director of football role.
However..His strengths also happen to be his weakness's. He's too single minded. It's black and white thinking all the time. As a manager he wants to imitate Cruyff and Pep Guardiola which is commendable, but he just hasn't got the ability to emulate their success's as visionary managers.
It will be interesting to see if the penny drops when Martinez see's how his hero Guardiola sets up his City side next season. It won't be the piss poor 2nd rate tika taka imitation we've become accustomed to. When Pep adapts tactics, being a Guardiola disciple, Martinez might actually have the epiphany that we've been hoping for, for the last 18 months and change. I really hope so, but hopefully he's long gone from Everton when it happens.
Darryl Ritchie
26
Posted 01/05/2016 at 02:44:14
"We need to learn from the mistakes..."
The mistakes will never be corrected because Roberto doesn't see the mistakes we see, as mistakes. He's had three years to sort it out, but he's no closer now than when he was at Wigan.
Defensive naivety; slow tippy-tappy buildup from the back, without exception; no clear plan of attack.
I'm not sure the manager sees these things as mistakes, so I'm not sure what "mistakes" he's referring to.

Mick Davies
27
Posted 01/05/2016 at 03:44:32
"We want to correct that, learn from those mistakes and clearly the concentration, from my point of view is to prepare the games we have in front of us and to get every point possible" ....
Well, there you have it folks: straight from the horse's mouth, proof that his first season was a fluke. If he needs to learn from mistakes and concentrate on preparation, how long will it take, even to just get back to where we were 3 years ago?
If 2013-14 was HIS way, HIS plan, why have we fallen so dramatically? He's a chancer, who got lucky, but now he's been found out, and if he doesn't go soon, then with a 㾹.5M no mark leading the line, and a 36-year-old garden gnome at right back. We may not survive his clinging to luck next season, and our derby match could be against the other club he relegated.
Mark Andersson
28
Posted 01/05/2016 at 04:47:26
"All so painful... Why is this ridiculous soap opera being dragged out?"
Simple we have a actor as chairman.
So I have a choice, I can either spend the next week reading the same posts that I have been reading for the last month, or I can do the gardening, painting, or even go on Facebook. There all things I hate to do but I will do 2 of them because Facebook is as depressing as being a Everton fan.
Brian Porter
29
Posted 01/05/2016 at 06:34:40
Anyone needing to know exactly how deluded and inflexible Martinez is only needs to read his 'musings' on Leicester City. In the world according to Martinez, their success is purely down to the goals scored by Vardy and Mahrez. Defence doesn't enter the equation at all, so the fact that Leicester are likely to win the league with a side well drilled in the defensive aspect of this game called football is an irrelevance for him.
For a man who says he wants to 'win silverware' this self-defeating claptrap sums him up perfectly. All he cares about is the attacking side of the game and doesn't understand or realise that all good winning teams are built on a sound defence first, with a solid midfield and effective strikers playing ahead of that defence.
Oh great deluded one, we stupid irrelevant morons salute you and your great knowledge, all contained in your magical brown shoes!
Brian Porter
30
Posted 01/05/2016 at 06:53:43
P.S to above. Was I the only one to notice that Leighton Baines hardly celebrated his goal today? It was almost as if he thought, as it went in, "Oh shit, what have I done? This might keep that twat Martinez in a job!" It certainly wasn't the way you'd expect a senior player to react to scoring a match winner, and his first of the season. He saluted the fans and basically walked back to his position for the restart.
It's ok, Leighton, no apologies needed. We still support you.
MARTINEZ OUT!
Dennis Ng
31
Posted 01/05/2016 at 07:16:11
Brian, you're thinking too much. It is a when question, not a if.
Steve Woods
32
Posted 01/05/2016 at 07:24:28
Brian @30 Yes I agree, I thought Leighton's "celebration" or rather his lack of celebration was very noticeable. It was his first goal scored from open play since January 2013 yet from his reaction you would think he was just at the training ground.
Lee Brownlie
33
Posted 01/05/2016 at 07:29:37
I just don't see him going, now. Not before the summer, leastways (and then?). Looks like Bill's already decided to weather the storm as far as RM goes, stumble to this season's finish line and hope to go again and 'get luckier' for next season!!
And once again, our manager claims 'understanding' of fans clear feelings only by virtue of the fact that he plays typically obtuse lip-service to it, but again, also puts a 'We're ALL disappointed, not just me(?).. results business... I'm the (proud) manager... responsibilities (etcetera etcetera ad nauseum ad infinitum et nil satis!!!)'.
Manager-speak spin on everything, rather than directly addressing the issues (FANS issues with HIM!).. he might gain a little more respect if he just said:
"Yes, I do still believe I can turn this team around, although of course I know EXACTLY why the fans want me out, because I've failed pretty dismally so far except for my first 'honeymoon' season"!!!
Mmm... not going to happen, methinks.
Alan J Thompson
34
Posted 01/05/2016 at 07:46:46
I think most of us agree with his aims. We all know what is required but what we don't know is who we will get who is capable of instituting the necessary requirements.
Nigel Munford
35
Posted 01/05/2016 at 08:40:08
Brian, I agree I didn't think he looked like a player who'd just scored a potentially winning goal, and given the suggested unrest in the dressing room the unsettled players should all hand in transfer requests with the reason of not being able to work with the manager.
Ernie Baywood
36
Posted 01/05/2016 at 08:58:49
Brian, I'm certain that's the opposite of the point Roberto was making. He was saying they were so structured and organised in defence, but that alone doesn't win you a title.
And he's right isn't he? Speaking as supporters of a team that was structured and organised in defence for years without winning a thing.
Which brings me back to my earlier point. We need to stop trying to play this guy for a fool. He's absolutely not. I'll bet he'd run rings around the vast majority of us if we talked football with him. He'll certainly do it to Kenwright and Moshiri. He's not deluded... he's a very smart guy who had studied at length and understands the game.
Play the ball not the man. The results are not good enough.
Denis Richardson
37
Posted 01/05/2016 at 09:15:32
If Newcastle and Sunderland had made managerial changes earlier in the season we would be in the relegation fight.
We only survived this year because of villa being one of the worst teams in the league, ever and Newcastle and Sunderland being rudderless when they played us.
Football is a simple game at the end of the day and out manager's 'vision' involves unnecessarily over complicating the game which in turn inhibits our players' natural talents. In his interview he stated he was proud that he got the average passes per game up from 150 to 650 in his first season at Swansea – that was more important to him than winning the League 1 title!
You could give Martinez £500m to spend, we would still never compete in the league as his 'system' is simply flawed. It's too easy to play against and all those other 'short term' managers take advantage. Nevermind an obvious issue with fitness and defending.
The guy thinks he's found some revolutionary way of playing and is deluded in thinking he can emulate Cruyff. Fact is he simply is not a very good football manager but has the gift of being able to talk bollocks which at first sounds plausible... until you look a little deeper. Kenwright and Whelan before him have been taken in by his nonsense.
As stated above, having a goal and a vision is useless if you don't know how to put it into practice. In this case I think he does know how, only problem is that his vision and 'style' of play is flawed to begin with.

Liam Reilly
38
Posted 01/05/2016 at 09:15:48
I wouldn't have expected Baines to slide along his knees for scoring in a dead rubber against a side we should be putting to the sword.
Just not a good time to be an Evertonian.
Ernie Baywood
39
Posted 01/05/2016 at 10:19:08
I feel like I'm constantly defending Martinez when my position is that I want him out immediately.
Dennis, football is a simple game on a week to week basis and I think most recognised that by wanting a new man in for the Cup semi. They're were thousands who could have done a better job. Of course he's proud of winning League One, but he's saying that they won it because they got very good at playing the style he wanted, and that style gave them a chance at sustaining their improvement. The style was something they could control, the title wasn't within their control. I'm sure I heard Novak Djokovic say something very similar to that.
Longer term I don't think it is a simple game. How do you decide which players to invest a small fortune in, how do you train them, what facilities do you need, what manager should you hire, what other staff do you need? That all has to align behind some kind of plan and the plan can't be to just be the best. What's the vehicle that is going to get you there? If you planned to be the quickest you wouldn't hire the best marathon trainer.
Gavin Johnson mentioned earlier that Roberto might make a decent Director of Football. I think he might be right, though I share the same concerns with the DoF role as Gavin. I can definitely see why clubs have considered it, as well as why it keeps on failing.
I still feel like Roberto is closer to what we need than we would like to admit.
Jimmi James
41
Posted 01/05/2016 at 10:37:10
I have been saying all along that I believe the board are intent on keeping Martinez as manager and that is something I was told from a friend within Goodison. Now I realise we all have friends who can give us inside *info* and to be fair a lot of it is just rumour and tittle tattle but my friend is sure that the board want to keep him. However given the vociferous attempts to have him removed have made an impact on the board and maybe just maybe they will rid us of RM.
Now then what I think some fans have got wrong is the personal insults towards our manager and the way some have gone about making their feelings known; no matter how strongly we feel we should not be stooping to that level.
I also believe he is a nice fella with strong principles which he sticks to. I can't fault him for that, ask yourselves would you want a manager who just threw his principles out of the window just to appease the fans or keep his job? I wouldn't.
Sadly his principles and ideas on how to play the game just don't suit Everton at the moment, part of that could be he doesn't have the players to implement his footballing principles. Whatever the reasons, are he should resign but without all the personal bile aimed at him.
Damian Wilde
43
Posted 01/05/2016 at 11:02:22
"He has his principals and they're pretty sound."
How long does he have to fuck up for before the few remaining idiots cotton on? Five years? Seven? Maybe 10? Please enlighten me Martinez apostles, how long 'till his vision kicks in? Fans like this that are part of the problem.
Karl Parsons
44
Posted 01/05/2016 at 11:03:01
He talks about learning well take your mind back to the first game of the season. A 2-2 draw against Watford at Goodison. We were shambolic across the park and scraped a draw. The learning comment should have been expedited then.
My lad said to me on the way back to our car, "It's going to be a long season". "The man is a complete fuckwit," I replied.
Talk is cheap, Roberto, fucking sort it out and show us in these last 3 games with your invisible magic. Then fuck off because I'm fed up to the back teeth of your perpetual repetitive rhetoric.
The apathy within Goodison yesterday was palpable. I didn't even get out of my seat for the winning goal!

Brian Porter
45
Posted 01/05/2016 at 11:07:01
Ernie, no one is saying Martinez isn't intelligent. He must be in order to be able to convince so many people to go along with his 'philosophy' for so long. We're also not saying he doesn't know anything about football. He's probably a genius when it comes to the history and the theory of the game. What those of us who want him out are really saying is, despite all that knowledge, he is not a very good football MANAGER, and that is the simple bone of contention between Senor Martinez,and his detractors.
When I joined the RAF my training consisted of two main sections,apart from all the usual general service training. Those sections were theory and practical. In order to graduate from our course we had to achieve pass grades in both sections of the course in order to go on to our careers in the Air Force. There were quite a few who were great on the theoretical side of the course, but were unable to pass the practical application side (and vice versa of course). That is where I believe Roberto Martinez's failure lies. Despite his probable encyclopedic knowledge of the game he is unable to put that knowledge to practical use. Alternatively he is either incapable or unwilling to alter his perceptions of how his application of the theory should be applied.
Going back to the military again, a failure on say, a basic flying course, if he had high marks in his theory exam, might be offered 'recoursing' which meant taking step back and going through the course a second time. The only way they would qualify for their pilot's wings would be to listen and take note of where their previous errors had occurred and then take steps to correct them. This again, is where Martinez lets himself and the club, the players,and the fans down in that he won't even admit he's made any mistakes, an attitude that smacks of our arrogance and 'I know it all.'
Put in simple terms, would you trust a man like that with a multi-million pound fighter aircraft? I sure as hell wouldn't. So, why should we allow a man so intransigent, intractable with the inability to accept he just MIGHT have made some mistakes to run what is in effect a multi- pound business on a day to day basis?
Oh, at the end of my training, I achieved 'distinguished passes' in both theory and practical exams, but was still able to admit to making the occasional mistake during my career. We're all human after all.
Brian Porter
46
Posted 01/05/2016 at 11:15:46
For those who are too young to remember, or who were there as I was as a 13-year-old at my first FA Cup Final, here's a nice four-minute reminder of one our greatest winning achievements, the incredible comeback in 1966. Makes you proud to be a blue!
Anto Byrne
47
Posted 01/05/2016 at 11:17:44
It's up to the club and owners who they have as a manager. Fans will get disinterested and support will dwindle. It's our money and we can protest by not going and they can play in a half-empty stadium.
It doesn't help when Kenwright applauds the first-half rubbish and thinks losing semifinals and losing to the shite acceptable. Gobshite time for him to go too.
Brian Porter
48
Posted 01/05/2016 at 11:17:45
Sorry guys, I forgot to add the link to my previous post. Here it is , (I'm claiming old-age,as my excuse) https://m.youtube.com/watch?v=MEztFITXdxU
Damian Wilde
49
Posted 01/05/2016 at 12:03:04
Karl, I didn't move off my seat for either goals, same against Soton. I'm just not enthused anymore.
Ernie Baywood
50
Posted 01/05/2016 at 12:17:10
Brian, I think we're in heated agreement. Nice theory, fails the practical.
Damian #43 clearly we're in complete disagreement, but that's alright with me. I'm thinking about what he's saying and want him gone, while considering what we need moving forward. Apparently the behaviour of someone who is part of the problem.
Whereas slating supporters on the basis of a comment you read about half of...
Denis Richardson
52
Posted 01/05/2016 at 13:16:21
Ernie 39, not sure what you're getting at. Of course running an entire club is not simple and is also not something one person would do. There is a small army of people at Everton who do things, Martinez does not do everything himself. However, the 90 min game I was referring to IS is a simple game.
As far as the infrastructure and set up is concerned, Martinez may have helped improve somethings off the field (although fitness and injuries are two things that seem to have gone backwards - Coleman and Jags now the latest ones with hamstring issues, again) but everything off the pitch becomes totally irrelevant if we can't perform on the pitch.
Martinez took over Wigan, at the time a lower mid table side, and over the course of 4 years made them progressively worse in the league until they were relegated. He took over Everton, a regular top 6-8 side, and again he has progressively made us worse over 3 years. He has yet to improve year on year in the league.....coming up to 7 years now in the top flight, some 'learning' that. Ask a Wigan fan if they would have him back and you'll get laughed at - not exactly a ringing endorsement.
Whatever his 'vision' is, it has one undoubted result as far as league positions in the premier league are concerned.
It just amazes me how much back slapping goes on in the media and pundit circles as everyone wants to keep everyone else sweet so as not to rock the boat and potentially be exiled from the money trough that is the premier league. Most Everton fans saw 12 months ago that Martinez was not up to the task and yet the press and other media make out we should be grateful for having such a 'great manager'.
He dwells on his first season, last English club in Europe last year and a second half performance in the semi this year as the shining examples of the 'progress' we're making. Utterly ignoring the mass of statistics that show we're getting worse, never mind our league position, sorry defence and home record.
The guy is such a fraud it's unbelievable how many people just cannot see that.
Damian Wilde
53
Posted 01/05/2016 at 13:32:49
Exactly Denis. Last club in Europe? So what. And he keeps banging on about the 2nd half of the semi...which we lost. Funny how he never mentions the poor stuff e.g. 11th place finish and worst home record in history. Why foes nobody ask him:
"Roberto, if your vision is so good why were Wigan relegated?"
"Roberto, if your vision is so good, why do Everton have the worst home record in their history?"
Ste Traverse
54
Posted 01/05/2016 at 13:47:54
We'll never see the back of Martinez as long as Kenwright still has influence.
This video sums up just how pathetic BK is.
http://www.blueheartbluesoul.com/video-bill-kenwright-on-Roberto-Martinez-after-yesterdays-game.html
Whether he's a nice man or not doesn't matter, the man is hugely flawed and is taking us backwards.
And the clubs attempts to drown out unhappy fans after the game by playing loud music was a total fucking disgrace.
Ernie Baywood
55
Posted 01/05/2016 at 13:49:40
Damian. It's because he's not a very good manager. It's pretty simple and our league position backs it up. But you go and read through the comments and you'll read that he's insane, a lunatic, a dreamer, doesn't know the game, is wrong for having a playing style, thinks Leicester's defence isn't a factor in winning the league... I could go on.
It's nonsense, he's just not a good manager. Can't motivate, can't get the right focus on results, can't manage during games.
My second biggest concern is that we'll decide this experiment with a forward thinking manager has failed and we'll go for a Moyesalike. No fear of a plan there - keep it tight today and we'll figure out what to do next season when we get there.
My biggest concern is that the board will be convinced by Martinez's plan.
Colin Glassar
56
Posted 01/05/2016 at 13:55:50
The sad thing about Martinez, IMO, is that he does "get" us. He does want Everton to reach the very top but unfortunately he doesn't know how to get us there.
His legacy will be he had good intentions but he blew it. Very sad but true.
Jamie Morgan
58
Posted 01/05/2016 at 14:04:33
Said this on another post but I think we should stay calm, I've not posted at all for months before today as I just struggled to be arsed (apathy created by Martinez tenure).
He's going to be sacked... He knows it and is spinning any old crap to save face. We knew for weeks that Newcastle were going to sack McClaren, they were clearly sorting out the replacement first. I think that's what we are doing, putting feelers out and seeing who we can get, letting Bobby bullshit finish the season then he can clear his desk quietly with dignity!
Pellegrini or Koeman for me!
Gavin Johnson
59
Posted 01/05/2016 at 14:22:41
Ernie - I can empathise. People on here often read the opening paragraph of a post and if it has any sentiment other than 'Martinez Out' from the get-go they automatically jump the gun and don't even read until the end, such is their eagerness to jump on the poster for daring to have a different view from their own.
I too believe that Martinez isn't the complete clown that most take him for. I give him credit for having the vision to oversee a long term project for success. His hero's like Cruyff and Guardiola have had a philosophy that has been based on continuity from youth level up to the first team.
These are sound principles and I can see how Martinez's successive chairman: Hugh Jenkins, Dave Whelan and Bill Kenwright speak so highly of him. The improvements in the academy aren't the things immediately apparent to supporters. This is why I suggested that Martinez might make a good director of football and while this set-up isn't something I'm sold on. It has some positives in theory and I can see why several clubs have tried this model.
The problem is that football is a results business which Martinez has conceded himself recently, but there is little or no evidence that it's been translated to the business end of things: Winning games! The opposite seems to be the case. We look like a vanity project for Martinez where he is more interested on style over substance.
As a manager, I don't think he's up to the job. It's admirable having a similar vision to your heroes. I wanted to play like Kevin Sheedy when I was kid. It was never going to happen though. As a manager he will always be a poor imitation of Guardiola or Cruyff.
Martinez might be doing the right things with the clubs infrastructure, but his job before anything else is to win games, and it's not happening.
I think nearly all of us are singing from the same hymn sheet. 95% out of 8,000+ votes want Martinez to leave. In case my post isn't completely black and white for some. I'll make it clear – MARTINEZ OUT before I have to put my tin hat on for being a Martinez disciple.
Les Martin
60
Posted 01/05/2016 at 14:39:20
Talks a good game but plays a bad one! A lot of talent at his disposal but he is clueless as to how to use his resources.
Swansea today let Liverpool have the ball and then hit them on the break. Everton have an ideal squad to play the counter attack. Pace in abundance with Lukaku, Lennon, Mirallas, Deulofeu, Barkley is quick too, yet we have rarely seen this exploited apart from Southampton away.
The sooner he is gone the better.
Colin Glassar
61
Posted 01/05/2016 at 14:56:59
According to Ian Doyle (Echo) he's a gonner. Nothing can save him now, not even winning all our remaining games. BK's heartbroken but the decision has been made.
Gavin, I wouldn't be too upset if he's kept on in some capacity like Director of Football to continue his development plans for the youth teams or even as chief scout. This might not be popular but I still like his ideas if not his managerial skills.
Ray Said
62
Posted 01/05/2016 at 15:12:05
My three biggest concerns about RM's approach have been;
1. the priority he puts on possession (even its its 15 meandering passes across our box) ahead of outcome -pass, pass, cross, shot, goal
2. The lack of running power both with and without the ball. It is a running game and we don't do enough or the little we do is low pace and low intensity
3. The lack of iron in the team- we don't compete fiercely enough, little hassling, pressing, scrapping.
I want someone who will fix these things and RM will never do it. He is too wedded to a false philosophy.
Damian Wilde
63
Posted 01/05/2016 at 15:16:38
Colin, where did you hear this? Twitter? I sincerely hope so as I won't attend the match until he's gone. I can't agree with you about liking his ideas, his ideas are what has got us into trouble. I won't him nowhere near the club. Scout...Niasse!!!!!
Agree Ray. The endless pasding us just weird and boring. It's so slow tge opposition can organise themselves easily.
#MartinezOut
Brian Mahoney
64
Posted 01/05/2016 at 15:35:17
Does anyone remember just after Martinez came to us that tool Whelan saying " No disrespect to Everton but Roberto will manage a big club soon".
I wonder if he still feels the same way?
Ged Simpson
65
Posted 01/05/2016 at 15:44:59
Colin, where did you see that?
Colin Glassar
66
Posted 01/05/2016 at 16:10:23
Damian, it's on the Echo website. His heart is in the Nou Camp but his head is up his backside!
Damian Wilde
67
Posted 01/05/2016 at 16:14:39
Agree Colin! He's probably watching DVDs of Johan Cruyff's Barcelona!
Mike Allen
68
Posted 01/05/2016 at 16:18:55
Chief scout ??? McGeady , Niasse, Alcaraz, Kone ect does not look good on your CV.
Just listened to Klippity Klopp. He comes across as a genuine football guy, what a breath of fresh air, then you listen to Martinez. What an absolute fraud.
Tony Hill
69
Posted 01/05/2016 at 16:19:39
Colin that has made me very happy. I've decided to believe it's true and I've also decided that de Boer is the new man. What have I been so upset about?
Dave Abrahams
70
Posted 01/05/2016 at 16:20:42
Damien (63) Ian Doyle of The Echo is saying " It is inevitable that Martinez will go, whether it is this week, next week or the end of the season he will go". And so say all of us.
Brian Porter
71
Posted 01/05/2016 at 16:28:37
Nice to see Jonathan Northcroft in the Mail calling Martinez's latest statement as "nonsense". When the press are saying these things, surely someone in authority at the club has to see what is going on. Northcroft actually makes the valid point that Martinez puts a positive spin on everything when people would respect him more if he'd just be honest and say "we've had an awful season."
His attitude to results is also called into question. Nothing new I know,l but if only the press had caught on to the faker six months earlier!
Jay Wood
72
Posted 01/05/2016 at 16:33:20
I think any one reading the Ian Doyle piece and concluding RM is a definite goner is over egging it.
There is no indication he is 'in the know' and knows for certain it is a fait accompli.
Doyle is simply echoing a lot of posters on here who believe RM's position is now so untenable that he must be dismissed, that he should not be entrusted with the summer's transfer kitty and certainly should not be in situ next season.
Like others, I believe to continue with RM is too high risk and potentially extremely detrimental to the club's hopes and ambitions for the next decade.
But at no time in the piece does Doyle suggest he knows for a fact RM will be dismissed.
Jeff Armstrong
73
Posted 01/05/2016 at 16:33:50
Colin, please give it up with keeping Martinez on in a scouting capacity, I know you where one of the later converts but honestly just let the whole Martinez era fade away and let's go forward.
Darren Hind
74
Posted 01/05/2016 at 16:35:25
Dave (A)
Where's Tony ? I like his tell it as it is attitude and always look for his posts, but cant see any.
Paul Tran
75
Posted 01/05/2016 at 16:35:58
Can't have that Colin.
Martinez would have to learn how to explain his ideas to players before I'd give him any kind of job. What he says he wants and what I see on the pitch are miles apart. He's compounded this by running a cohesive team in his first season and a complete mess in seasons two and three. Suggests to me there's something getting lost in the messages between him and the players.
I like what he says his ideas are. I want a manager who can actually put those ideas into practice. That's not Martinez.
Baz McCann
76
Posted 01/05/2016 at 16:51:16
Roberto was talking his brand of gobbledygook when the team played great during his first season. Call me for everything but I am prepared to give him more time. A talented young team... maybe if we acquire a Peter Reid, Roy Keane type leader on the pitch could help.

So often this season we drew games should have won, football as they say often comes down to fine lines. Is it just coincidence our home form is appalling, is it possible our young lads are suffering lack of confidence and the current atmosphere is not helping?
Ray Smith
77
Posted 01/05/2016 at 16:54:22
Is Pellegrini going to replace Martinez?
Have Everton sounded him out?
My unevidenced theory is that Martinez will see the season out, and Pellegrini will step in during the summer.
Some of the want away players may have a change of mind?
Only a theory but worth hanging onto in the current climate.
Damian Wilde
78
Posted 01/05/2016 at 16:56:39
Darren, are you referring to Tony Marsh? I reckon the site has a few made up posters to spice things up :D
Colin Glassar
79
Posted 01/05/2016 at 16:57:45
Paul, I think Martinez needs to re-learn English tbh. He talks a lot but a lot of it is incoherent and unnecessary. Like his football he needs to go back to the basics and start from square one.
I do think he has a vision, which I find interesting, but he needs people to put it into practice. Some of the best thinkers aren't the most practical people are they?
Jay, I think local journos probably have a better idea what is actually going on in clubs as they are in frequent contact with players, staff and even some people ITK . There's no smoke without fire as they say.
Kieran Kinsella
80
Posted 01/05/2016 at 16:58:17
Martinez can go and work at Fawlty Towers for all I care. I'm a bit worried about some of the names being tossed around. Joachim Low made a pigs ear of winning anything with Germany. Harder not to win than to win with that group. Steve Evans is terrible and I've no idea where that rumour began. If he's really in the mix it opens the floodgates to just about everyone. Brian Talbot, John Beck and Felix Magath will be licking their lips. Howe hadn't done enough to earn it and could yet prove to be a Mike Walker. Klinnsman is another joker. Moyes is an old man now he's not the man he was 20 years ago and if we're going that route then we may as well get Trapattoni. Brendan is scum. Bielsa is another Felix Magath. Hughes is a poor mans Moyes. Koeman has a mediocre track record. We could try and find another Pocehtino but it's risky as you may get a Pepe Mel.
Ian McDowell
81
Posted 01/05/2016 at 16:59:14
Whatever happens with the manager, and I do hope they win the league, but please Everton go to Leicester next week and win 3-0.
Colin Glassar
82
Posted 01/05/2016 at 17:01:07
Any suggestions then Kieran?
Ray Smith
83
Posted 01/05/2016 at 17:03:45
Kieran 80#
Pellegrini for me. He's available and wants to stay in the Premier League.
Kieran Kinsella
84
Posted 01/05/2016 at 17:04:15
Ranieri
Kieran Kinsella
85
Posted 01/05/2016 at 17:04:52
I'd get LVG he's done well with kids
Ray Smith
86
Posted 01/05/2016 at 17:05:32
Can't see Ranieri leaving Leicester
Colin Glassar
87
Posted 01/05/2016 at 17:06:26
After watching 35 mins of the Southampton - City game I'm changing my mind. Koeman!! Fickle? Who? Me?

Ian Tunstead
88
Posted 01/05/2016 at 17:10:23
"Tony Marsh" achieved what he set out to do. He now has no purpose.
Colin 56, I'm a little confused by your post when you say
"The sad thing about Martinez, IMO, is that he does "get" us."
I think you must be speaking for yourself, not "us", he never got us as far as I'm concerned and I certainly never got him and his post match analysis.
"He does want Everton to reach the very top but unfortunately he doesn't know how to get us there."
Doesn't every manager want their team to reach the top or am I missing something?

Jay Wood
89
Posted 01/05/2016 at 17:14:14
Colin @ 79.
"There's no smoke without fire as they say."
As someone who has frequently and eloquently spoken out about football journalism Colin, and poured scorn on their literary efforts, do you truly believe that?
Read any media outlet's football rumours of the day, on any day of the year.
Still want to claim "there's no smoke without fire as they say?"
Ian Doyle is doing what almost all of us on this site is doing: speculating, without any hard proof to back up his claims.
At no point in his piece does Doyle indicate he is 'in the know' and can confirm RM's dismissal IS a given.
Not one of the Echo's 'local journos' have been emboldened to categorically state RM is a goner, regardless of how good their inside info and access to the club should be.
As I suggested on another thread, any journo worth his salt sitting on such a story would be tripping over himself to file such an exclusive to his editor and readership.
Nobody has.
Paul Tran
90
Posted 01/05/2016 at 17:14:24
Colin, I think his English is fine. I've worked with a few managers who speak fluent English without being able to explain their way out of a paper bag. He's in that camp. I'd love to know if he talks nonsense in his own language; it wouldn't surprise me.
Pellegrini is looking the most logical option. Available, won trophies at the highest level, knows the league, NW England based, apparently wants to stay here, will benefit from being somewhere where he's wanted. Since when have the words logic and EFC belonged together?
Terence Tyler
91
Posted 01/05/2016 at 17:16:56
Pellegrini not for me folks, same outdated style of football as Martinez, only with more expensive players, boring tippy tappy crap. his style might be getting him somewhere in the champions league but it is now proving useless in the premier league. See Leicester and Tottenham if you don't believe me. By the way as I write this City are getting beat 2.0 by Southampton. I would have Koeman before Pellegrini any day
Gavin Johnson
92
Posted 01/05/2016 at 17:17:45
LVG?! Really Kieran?! The guy has a personality like one of them snake draft excluder's. I can't work out how that man ever won anything going on how he comes across in interviews and the football United play after spending the best part of 𧶀m.
If we have to go down the elder statesman route. I'm for Pellegrini all day long. But my first choices are Koeman and De Boar.
Ray Said
93
Posted 01/05/2016 at 17:23:14
I think its more a case of WHAT we want rather than WHO we want for the reason Terence Tyler mentions in post 91. If we identify WHAT type of footy we want then we look only at managers who have demonstrated they can deliver that type of footy.

Kieran Kinsella
94
Posted 01/05/2016 at 17:27:17
Gavin
I don't know how LVG won anything either but the fact is that he does win stuff. The money spent had more to do with the club wanting to be seen as spenders rather than LVG
Colin Glassar
95
Posted 01/05/2016 at 17:29:29
Jay, I have only my gut instincts to go on here but I honestly believe he is finished.
As you say, I usually take what the papers say with a huge pinch of salt but when a manager is being eased out of a job it's usually people (sources) within the club who start to feed the local journos with tidbits to get the ball rolling.
Tony Hill
96
Posted 01/05/2016 at 17:36:04
Of course, none of us has a clue and that's because the Board is disgracefully silent. According to yet another train anecdote, fans apparently spoke to Moshiri who denied any meeting took place on Friday and he seemed in no hurry to make a change (as if he would tell them).
That's all probably bollocks too but rumours expand to fill the silence.
Mike Green
97
Posted 01/05/2016 at 17:40:48
Amazing how much time these billionaires spend on public transport....
Tony Hill
98
Posted 01/05/2016 at 17:46:14
Yes, Mike, it'll be the bus next or just walking back to London.
Colin Glassar
100
Posted 01/05/2016 at 17:49:01
I often see billionaires on the buses where I live Mike. Then I've also seen one guy who thinks he's Elvis and two who are convinced they are Elizabeth Taylor reincarnated.
Jim Bailey
101
Posted 01/05/2016 at 17:49:13
Ok people...Moshiri, a billionaire, let me repeat that, a billionaire and Kenwright a multi millionaire share a train carriage with "ordinary supporters". Come on guys, please.

Years ago my old fella used to know, and was great mates with the boss of the Abbey pub on Tetlow Street.

What that guy didn't know...doh.
Lyndon Lloyd
102
Posted 01/05/2016 at 17:53:49
Jim, Kenwright has taken the train from Euston to Lime Street for years and both he and Moshiri were pictured with supporters after the home game before last on the train in a photograph shared on social media.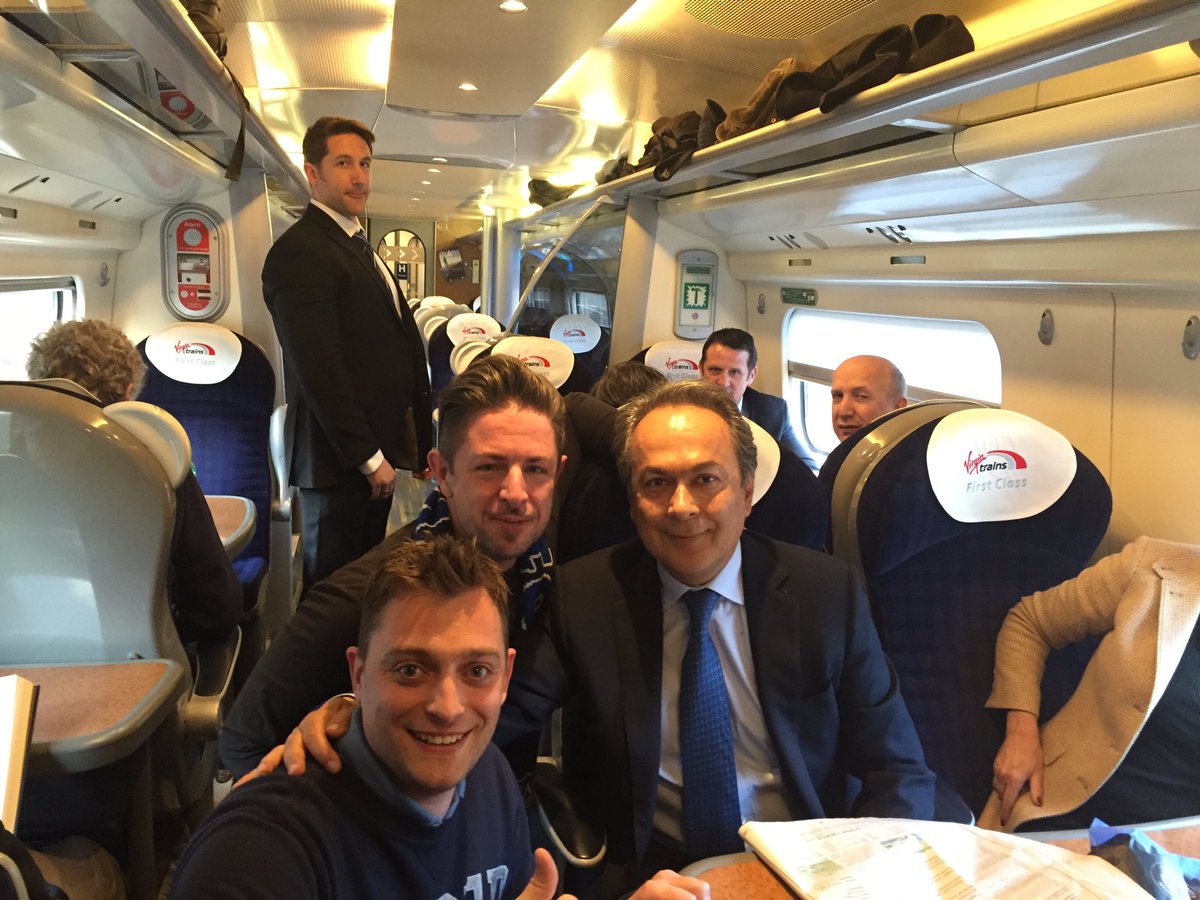 He was also snapped by a fan getting off the train yesterday.
Colin Glassar
103
Posted 01/05/2016 at 17:59:46
Still doesn't mean he's going to tell a bunch of fans on a train his plans for the club Lyndon. At least they haven't given Roberto the dreaded vote of confidence, yet.
Lyndon Lloyd
105
Posted 01/05/2016 at 18:01:04
Yeah, of course not, Colin. Was just letting Jim know that they definitely did mingle with mere mortals on the train, in first class, though, I'm sure!
Jim Bailey
106
Posted 01/05/2016 at 18:01:41
Lyndon@102
Fair enough, I stand corrected.
I just find it ridiculous that people in their position and power would divulge any info in a public domain
Bill and Martinez out as soon as possible
Steve Woods
107
Posted 01/05/2016 at 18:06:00
Jim I can second what Lyndon says. Kenwright has been taking the train to Goodison via Lime St. for decades (as I used to do).
On the way up from Euston in the morning he always used to work his way through reading a pile of different, freshly purchased newspapers. He never cut off from the fans and the many times I saw him on the train, he was travelling alone. Needless to say he travelled first class.
Mike Green
109
Posted 01/05/2016 at 18:13:03
I take it back.....this is the age of the train!
Phil Walling
110
Posted 01/05/2016 at 18:14:46
Re the phantom meeting, I don't think there was any official confirmation from the club that it was to take place, just a couple of journos doing a flyer.
The concept that every decision is made by clubs at formal meetings is a myth and was a myth as long ago as when Harry Catterick was 'pushed upstairs'.
Colin Glassar
111
Posted 01/05/2016 at 18:17:42
Steve, does that mean Moshiri and BK spend a penny in the same bogs as the rest of us do at Limey? Next time I'm on one I will feel truly privileged and honoured.
Steve Woods
112
Posted 01/05/2016 at 18:26:37
Colin I imagine over the years that there is a fair chance Bill may well have hung out in there once or twice... although its not something I could actually vouch for.
Phil Walling
113
Posted 01/05/2016 at 18:28:23
......and I wonder who Tony Marsh really was, Damien @78 ?
Tony Hill
114
Posted 01/05/2016 at 18:34:56
I have to say, and not just because of today, that I would take Koeman every time over Pellegrini, though De Boer would be my first choice. Incidentally, I think the way Southampton have run themselves over the last few years has been exemplary and they are one of my favourite clubs, proper outfit with good priorities and, over the last few years, the courage to act.
I should make it clear that I expect R. Martinez to be in charge next season and I expect us to be relegated.
Sorry to end on a downer.
Ray Roche
115
Posted 01/05/2016 at 18:35:58
Kieran Kinsella #80

"Martinez can go and work at Fawlty Towers for all I care. "

He already is.
Colin Glassar
116
Posted 01/05/2016 at 18:41:47
Koeman, Pellegrini, Simeone, Emery, De Boer, Sanchez Flores etc.... I'd take any of them right now. Even Neil Lennon!!
Dave Abrahams
117
Posted 01/05/2016 at 18:42:00
Darren (74) Tony is out and about, I was at the match with him yesterday and last week at Wembley, I think he is chockablock with Everton at the moment as we all are.
I believe he was on TV last Monday, recorded from Wembley, never saw it myself, think he was having a good go at Roberto and Billy Liar.
Phil Walling
118
Posted 01/05/2016 at 18:43:41
Jay Woods, I have no wish to engage in verbal conflict with you -you'd insist on knowing my sources. But you do need to relax a bit. TW is a debating chamber not the Grand Jury. It thrives on gossip and tittle-tattle and long may it be so.
No doubt those 50 words or so will be re-joined by yet another Gettysburg Address. Martinez says less !
Phil Walling
119
Posted 01/05/2016 at 18:47:05
Thanks for clearing that up Tony....eer Dave !
Darren Hind
120
Posted 01/05/2016 at 18:54:34
Thanks Dave @117
I was just wondering where he was

Tony Draper
121
Posted 01/05/2016 at 18:56:10
OK I'm applying ALL my logic to our incoming manager, this based upon my strongest insight of Everton and our Luvvie Duvvie "Acting Chairman" (highlight of his career was being Bettiy the Hotpot's son in Corrie). So here is my likely list.......
[Cue that crappy music and Alan Freeman's voice over]
5] At number five [music] fat drunken arsehole [more shit music] Alan Brazil with feckless gobshite Mike Parry as Assistant Manager
4] "Dream Team" Andy Gray the sexist racist and Richard Keys !
3] Boyhood Evertonians, trophieless ladyboy Eddie Howe and the violent taxi driver twatter Sir Joey of Barton
2] The pumpkin headed Sam Allardyce
1] Roberto Martinez Montoliú
You seriously don't believe that Bullshit Bill has any intention of replacing the adorable but deeply flawed Roberto, do you ?
Paul Andrews
122
Posted 01/05/2016 at 19:12:27
Steve Woods 108,
You were sitting by the directors box looking at the photo.

Did anyone sitting around you voice their concerns to directors?
Kieran Kinsella
123
Posted 01/05/2016 at 19:40:53
Colin
Re. the train, you said yourself Moshiri is "barely a billionaire" so he's trying to save a few bob.
Colin Glassar
124
Posted 01/05/2016 at 19:50:02
As far as billionaires go Kieran he (Moshiri) is one of the poorer ones. In my world you're either a Bill Gates/Warren Buffet/Vladimir Putin BILLIONAIRE or you're just another wannabe, rich person.
Damian Wilde
125
Posted 01/05/2016 at 19:52:36
Not sure about Oellegrini, he's pretty dour, would he enthuse players and fans? One of the dutch fellas for me.
Ah well at least Moshiri and Bill don't have to get the London Midland train.
Ged Simpson
126
Posted 01/05/2016 at 19:54:37
God I wish they would sack him. It may make us better but mostly I want TW to become interesting again as we talk about something else. At present we are just going over and over the same old ground and we don't have anything to disagree about anymore !
Amit Vithlani
127
Posted 01/05/2016 at 20:08:26
Ray @ 115. Correct.
And here is the proof!
Robin Gomme
128
Posted 01/05/2016 at 20:20:56
Amit. Excellent!!
Brent Stephens
129
Posted 01/05/2016 at 20:36:20
Amit, very good! The Thin Spanish Waiter?
Steve Woods
130
Posted 01/05/2016 at 20:49:48
Paul @122. I was just passing that photo along, it was not me who took it. It was posted on twitter yesterday evening by a guy named Phil Griffiths, so I have no idea if the Directors were questioned by those around them.
Paul Andrews
131
Posted 01/05/2016 at 20:57:43
Thanks Steve,
I think people were expecting the directors to get a lot of stick from the fans around them. I have spoken to a few mates who are in the lounges, they didn't hear or see anything.

Ray Roche
132
Posted 01/05/2016 at 21:03:07
Amit, Tidy!
Maybe we should refer to him as Manuel...e's from Barcelona.
Ray Roche
133
Posted 01/05/2016 at 21:05:20
Colin Glassar '124
So, Colin. £1.4 billion pounds is what, in your world? Small change?
Kieran Kinsella
134
Posted 01/05/2016 at 21:09:44
Colin
I have a similar outlook on managers. Hence my long list of wannabees
Colin Glassar
135
Posted 01/05/2016 at 21:21:25
Just joking Ray. He will do for now but hopefully he will get a few more on board.
Brent Stephens
136
Posted 01/05/2016 at 22:02:39
Ray #132 "Maybe we should refer to him as Manuel...e's from Barcelona."
Maybe that's a clue to the format the protest should take - a finger in the eye ("let us explain").
Damian Wilde
137
Posted 01/05/2016 at 22:22:41
Did someone say LVG?? Why? Fuck me.
Ray Roche
138
Posted 01/05/2016 at 22:59:02
Brent,"let us explain")...made me laugh.
Jay Wood
139
Posted 01/05/2016 at 23:09:25
Phil @ 118.
Eh...? What the frig are you on about?
Or ... are you TRULY addressing Jay WOODS (who hasn't posted on this thread), or me, Jay WOOD, who hasn't addressed you at all?
Anthony Dwyer
140
Posted 01/05/2016 at 23:25:55
We've had a day to let the Bournemouth game digest, and even after that I can only describe the game as dire.
The deadline is due for the season tickets by the 3rd, and im honestly gutted that the club have left us in the dark over the future of our club.
Martinez needs sacking, plain and simple, everybody knows it and the board are allowing us to remain frustrated.
Put the poor man out of his misery, or back him publicly so I can save myself £700 odd quid in season ticket fees for myself and my boys.
I can not endure another season of that shits, its simply soul destroying.
Nick Page
141
Posted 01/05/2016 at 23:48:59
Only Everton could do farce so well. Every transfer window is the same. Now I can't stand the incumbent as the bloke is delusional but think about this.
Dithering Dave spent net ٧m in 11 seasons, despite rising TV money. Okay so wage inflation probably care of some of that but we consistently had amongst the smallest squads in the Premier League.
Martinez comes in and does well with a fit squad, brings in some faces and then says we need 6/7 players. We get half that. And again. And again. Has he really been backed or has bullshitter Kenwright been playing the same game knowing the value of some of the squad.
Martinez is culpable because he's playing the wrong game but bullshit Bill and his cohorts are still hiding the truth from the fans. How do we know this? He runs the club like an Arab dictator; no AGM's, no questions, no interaction just silence and the odd tear when it matters like yesterday's "show". He really is a duplicitous man.
He said he'd sell up by 70... he's still here and found a new investor for his train set. Hands off, it's mine. Until we rid the club of this cancer we will never move forward regardless of manager.
James Stewart
142
Posted 01/05/2016 at 23:55:29
I've never despised an Everton manager as much as Martinez, not even Walter Smith. Just make it stop and get rid of him.
Damian Wilde
143
Posted 02/05/2016 at 00:05:47
I'm the same James, hate him and hate going to the match, agree with Abthony, it is soul destroying.
He's been spouting bullshit again in the Echo, again spouting the shite about how good our away record is, if he says that one more time, I'll fuckin' flip. Bastard.
Eugene Ruane
144
Posted 01/05/2016 at 00:14:52
Nick Page (141) -
'How do we know this? He runs the club like an Arab dictator; no AGM's, no questions, no interaction just silence and the odd tear when it matters like yesterday's "show"'
Er..like a what?
Sorry but surely 'like a dictator' would have been sufficient to make the point, or are you saying there's something about 'Arab dictators' that makes them more nasty and controlling than than say Hitler or Stalin or Ho Chi Min (Mao Zedong, Leopold ll, Tojo..).
Chris Jones [Burton]
145
Posted 02/05/2016 at 00:35:00
Um, right, he're goes, I've never done this before; but someone I trust (a family member) tells me a board member at EFC has let slip Roberto has been sacked and the club has scheduled a press conference for tomorrow.
I'm going to look a real dick if he's wrong, and will expect to be roundly jeered if it's bollocks. But, like I said, I trust my source and he's always been right when making pronouncements in the past.
Mike Hughes
146
Posted 02/05/2016 at 00:41:33
Knowing our luck that'll mean John Barnes is back in employment.
Tony Abrahams
149
Posted 01/05/2016 at 07:46:57
Lyndon, is that the same Bill Kenwright, who drove past Walton Hall Park, every time he went to Goodison?
Thanks for asking about me Darren, I'm not very good with modern technology, and for some reason, my posts have to be checked for bad grammar! So I can't really keep up with the flow of the conversation.
Also feel tired at the minute, and can't help feeling that the bastards in charge have really let us down with their reluctance to change the manager. Can't help feeling that we should be going back to Wembley for a proper "jolly up", but the Anfield disaster put paid to that.
CANT UNDERSTAND HOW A TEAM CAN PLAY AN FA CUP SEMI FINAL, LIKE A PRE SEASON FRIENDLY, which is what we did for 45 minutes at Wembley. I didnt think it hurt as much, but it obviously fucking does.

Phil Walling
150
Posted 02/05/2016 at 08:17:17
Posts 118 & 139 : Sorry, mate. I just can't see the Wood (s) for the Jays !
Brent Stephens
151
Posted 02/05/2016 at 10:09:23
Chris #145 that's interesting! Any idea who the board member let it slip to?
Damian Wilde
152
Posted 02/05/2016 at 12:30:24
Can we stay away from the 'me ma's aunties cousin is a cleaner at Finch Farm and she heard he's defo going.' type posts?
Paul Burns
153
Posted 02/05/2016 at 14:46:20
He should have been sacked for the derby performance and result alone, the second stain on our club's soul at Anfield in his 3 year tenure.
Alan Peake
154
Posted 02/05/2016 at 15:29:25
Please not Pellegrini – just Martinez in 20 years time, all the complaints that we have with Martinez, the Man City fans have the same ones with Pellegrini.
No plan B, no tactical awareness, no idea of defending, only when Kompany plays do they look secure, Mangala and Otimendi look totally out of place at times... and how much money did he spend on them?
No, no, no, no to Pellegrini, definitely Martinez out.
Paul Nicholls
155
Posted 02/05/2016 at 18:34:05
Chris #145. What time is the press conference? Or did tomorrow mean Tuesday?
Colin Glassar
156
Posted 02/05/2016 at 18:40:33
Chris 145, he's not getting sacked until after the Norwich game. You can put a fiver on that
Kunal Desai
157
Posted 02/05/2016 at 18:56:29
Agree Colin. Looks like he will leave once the season ends and Everton paying him £2 million less in compensation from June 1st.
Christopher Marston
158
Posted 02/05/2016 at 18:56:54
So much talk on here about wanting him sacked. That's great but no one calls 606. Only a few hundred protest after the match. No one speaks outside of these walls. To the board, they think out of thousands that only a few want him sacked. By the way, I call 606 every week to voice my concern and never get on!
Patrick Murphy
159
Posted 02/05/2016 at 19:00:50
Christopher (158) Have you considered the possibility that 606 has its own agenda and that they may not want to include any views from disgruntled fans who support clubs that they may consider to be lesser?

Steve Woods
160
Posted 02/05/2016 at 19:01:55
Kunal @157 how does this paying him £2 million less after 1st June work? A few people have mentioned it and I'm genuinely interested why it is so, is there some clause in his contract?
Kunal Desai
161
Posted 02/05/2016 at 19:19:23
Steve - thats what I have heard and read. Many fans were saying that after the semi final defeat. If they are getting rid of him end of season then, its pure speculation but Everton are severing ties with him from Jun 1st onwards to folk out less in his severence payout. Perhaps if they let him go now with a month left they possibly could find themselves paying out compensation in full for this season. Didn't Moyes start at OT from 1st of June or July. We will see in due course.

Phil Walling
162
Posted 02/05/2016 at 19:20:05
On a similar theme to 157, I heard today that Real Sociadad are paying OFM until 1st June. I wonder if their President will allow him to do some preparatory work for Everton just as Kenwright did when he was leaving us for Manu ?
Kunal Desai
163
Posted 02/05/2016 at 19:20:38
Up until Jun 1st. Should have reworded that.
Steve Woods
164
Posted 02/05/2016 at 19:37:29
Thanks Kunal.
Phil Roberts
165
Posted 06/05/2016 at 06:30:28
My inner Paxman is getting me closer to wanting to be the next Paxman.
"We need to learn from the mistakes." So what are these mistakes, what have we learnt and what are we going to do to fix them?
Please note the plural – so more than one mistake.
But what are they? Walking on the pitch in the wrong order? As long as he makes vague statements he sounds good. Oh for the journalist who actually challenges them to make them more concrete. Taxi for Mr Paxman, you are needed at GP for the press conference.
---
Add Your Comments
In order to post a comment, you need to be logged in as a registered user of the site.
Or Sign up as a ToffeeWeb Member — it's free, takes just a few minutes and will allow you to post your comments on articles and Talking Points submissions across the site.
© ToffeeWeb